You can make a difference in the lives of people and their friends or families who are at risk or who have a mental illness just by making a donation to the Canadian Mental Health Association Durham.
Donations in person can be accepted by cash or cheque made out to CMHA Durham at our 60 Bond Street West offices during regular business hours.
Donate Online
Donate online through CanadaHelps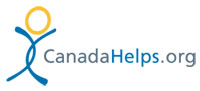 We Need Your Support
We need you to show your support of our work by making a donation. In today's climate of government cut backs, mental health is low on the overall health priority list. And community-based organizations are low in the mental health priority list. Without an indication of your support of the value of our work in your community, the services we are currently able to provide to the people who need them will not be able to continue at their current level.
CMHA is one of Canada's oldest charities; we have been in operation since 1918, but age does not necessarily mean our funding is secure. Even though most Canadians recognize our name and have seen our messages, when it comes to getting sponsorship for programs and lobbying governments, sheer numbers have an impact like no other factor.
And the numbers speak for themselves. Statistics show that one in every five Canadians will have a mental health problem at some point in their lives. Chances are, you have a colleague, a family member, or a friend who could benefit from our programs.